.:Application:.

-Name: Jessi

-Age: 17

-Where you live: New Jersey

-What do you think is the one thing that is the best about your personality and why: Im a very friendly, true friend. I dont lie if I dont have to. Very pretective.

-Now that IHSA has made cheerleading an offical sport, do you agree with them? Why or Why not?: I dont care. I have friends that love cheerleading and its their lives. I dont mind, Im not interested in it but thats my opinion.

-Put a song lyric that best describes you here: "So dont you say a word unless youre pretty sure that you want it analyzed." Im the kind of person that listens to every single word someone says and I always try to figure out what they mean by that.

-What is the most romantic thing that has ever happened to you: Romantic? Hmm. I cant say anything REALLY romantic has eer happened. My boyfriend knows how to take care of me and make me happy. He does a lot.. but not sure if its all exactly romantic..

-A lot of teens today face probelms with eating disorders.Is the media to blame? Partially. They expect everyone to have these perfect bodys. To look like a model, but in reality, a lot of people arent like that. But its not all the media. Its people too. Growing up and being called fat all the time definitly gets to you.

-What is your proudest moment: I actually did okay in school? haha.

-What is your most embarassing story: When I was little.. like kindergarden, we were in story time, it was all nice and quite and I farted really loud, and everyone looked at me while I had this little smurk on my face. :-P

-What are your thoughts on...
*Abortion: Im for it. I think its a womans decision on whether or not they want to have a child. It might be considered murder, but I dont think of it that way. I think that some women are in such bad positions that abortion is their only choice. IF they make it illegal, then we'll have a prooblem with mothers killing themselves, or them killing their new born babies, or so on.

*Drugs: Okay hard drugs arent somethink Im in to at all. I had to grow up with 2 parents that were into it, and it fucked up my life. My best friend too. Her mother is still on it and she has to live with her grandparents because of it. Think about your children or future children before you do something stupid.
Pot is a different story. Its a drug that could help many people. Like seriously help. Cancer patients, old people, ADD kids. lol. Anyone actually.

*2004 Election: I dont know how to feel about that. I didnt like either canadite. They both made me sick when I watched their speeches and shit. I have to say Im not suprized with Bush winning again. I just hope he doesnt fuck us over anymore than he has.

*Premarital sex: I think that is fine. Me being one that has lost her virginity before being married. I find it to be the strongest form of love and I really think that its your choice to wait or not.

*Same sex marriage: Its love. Not because they are the same gender. Love has broguht them together for a reason, and there is nothing wrong with that. I know that religion says its wrong, but my heart says its right.

*Religion: Religion is religion. Its what you are. You can believe or not. Whatever you are, you should never be discriminated again for it.

-Make up a question and answer it yourself:
Whats strange about you? Im a Kleptomaniac. I never notice when I take things when Im not supposed to.. til I get home and see somehting in my pocket and not know where it came from.
I also sleep walk. I think I emptied ashtrays in my sleep last night..

-Where did you find out about scene_whore? I saw it on one of my friends community lists.

-What makes you think that you should be accepted to scene_whore? I think that Id get along with more of you. Its a pretty cool community as well.

-Place your pictures here: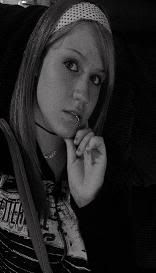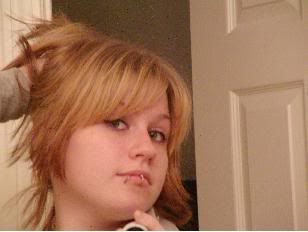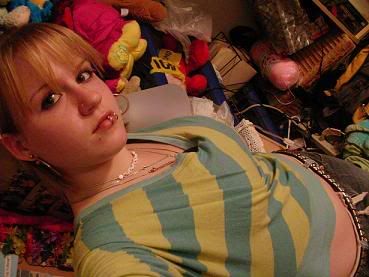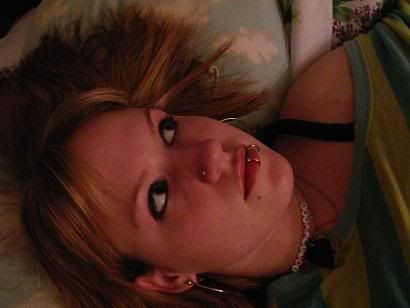 Music likes: Something Corporate, Anterrabae, Straylight Run, The Format, Brighteyes, GlassJaw, Head Automatica, Race The Sun, Funeral For a Friend, Hidden In Plain View, Standish, Madison.

Music dislikes: Incubus.. sorry... never liked them.

.Finish the Sentence.
Please do not feed the: rabid monkey
Absolutely no: feet near me or I'll have a heart attack.
You're a complete: piglet
Let's go: boogie until we cant see anymore.
What happened to all the: cookies in the cookie jar.
I love all things that have to do with: food.
What about the: sour skittles?

.Questions.
What CD is in your CD player right now? My Chemical Romance.
How did you find this community?: I saw it on my friends journal.
How many other rating communities are you a member of?: none.. I never joined a rating community. I tried for alluring.. but they are just a bunch of bitches that hate everyone that joins.
What are your hobbies?: wathcing movies, driving, singing, playing guitar, listening to music, making a fool of myself, loving my boyfriend, belly dancing crypt walk, being rediculous.
If you had a million dollars, what would you do with it?: I'd be buying a shit load of shit. I want a big house, I want a lot of clothes, I want to suppost my mom no matter what, I'd be shopping 24/7 for my friends.
What random fact do you know that most people probably don't?: half the snapple facts arent true. Snapple fact #1.
If they made your life into a movie, who would play you?: Gwen Steffani. I just think shes crazy and she'll have a good time being me
Who is your role model?: I dont have one. I realized I dont want to live in someone elses steps.
If you could change your name, what would you change it to?: Konstantine. I think its the sweetest name. Or Ashes. I like that name too.
One word or phrase to describe yourself: Entertaining. :)

What would you like us to rate? as in looks, personality, objects, etc.: Its up to you. After being beaten in the last community for everything, Im not sure if I need to lower my ego anymore. But if thats what you'd like to do, go for it. You can do it for all of it.
What is the best quality/worst quality of what you've chosen?: My best quality is definitly my personality. I am a really sweet girl and really friendly. My worst quality is my confidence. I have no real confidence with things cause I dont want to be let down.

.Useless Extras.
Your worst memory: When my boyfriend and I broke up the first time. That was the worst day ever. I couldnt stand looking at myself, let aloe hang out with him later that night. I went to the fireworks, and he was there and I was trying sooo hard to hold in my tears, and I saw him with another girl who really had nothing to do with anything, but it killed me. I wouldnt look at myself. I wouldnt look at anything. all I saw was a blur of my life. Its kind of lame to think about, but it was the worst memory ever.

Your funniest memory: When I was changing in my room, and looked out the window, never ever thinking that my friend Mike would be on my roof. Nooo never, my roof is too steap. But hey, he was there. Looking in my window. I think I didnt stop laughing for like 3 hours. The best part was when he feel backwards when he saw me looking at him.